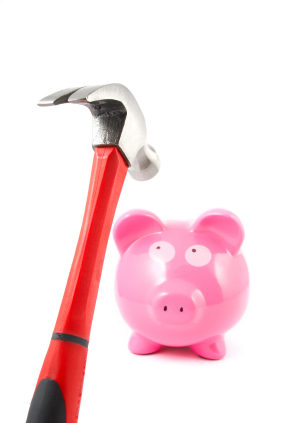 I dont care what side of the fence you're on about the ending of Lost, or if you took advantage of Starbucks Happy Hour with half price Fraps, (which they should have called Frappy Hour..why didn't they call me first) or if you're as confused as I am how KFC is a sponsoring the cure for breast cancer....I mean...good for them, but they serve more breasts then anyone..they are part of the problem...I want to talk about one thing: the economy. Or moreover, how I make ten bucks stretch into a week of food at the C Town. Five yogurts for $2 and four bagels for a $1 takes care of breakfast. Thanks to my man Manny and his son Sonny at the deli, they give me a little extra cold cuts by the pound so for $4 I get half pound of white American cheese (not racist...I forgot they made such a thing and like it better now) and half pound of honey glazed turkey. With the 2 bagels leftover from breakfast, that's sandwiches. A Poland Springs gallon of water for 99 cents takes care of my water needs, and 89 cents for angel hair pasta and 99 cents for the sauce. Pasta can last 2 days. I think the math is right. This way I can spend $40 a week on wings, $60 on beer, $50 on entertainment, and the rest on Potpourri...so, I guess I do have my priorities in order.
My friend, we'll call Ozzy, moved in with me. Showing him around New York is both fun as I rediscover why this city rocks (sweet nuts, The Muppet Workshop at FAO Schwartz, S'mac...none of these he was interested in) and funny to see how he would grab every flyer someone in Times Square would give him. Were making wallpaper with them in one room. That's right...we may even get curtains....
I have many screenplays in my head right now. If someone can pick them up and write them, Id appreciate it. Ill buy snacks.
I did a show in Nevada and found it is indeed pronounced Nevada like bad....not Nevada like odd...or maybe its the other way around, but they get mad or mod when youre wrong.
Many shows coming up...a fun Artprov with a new artist,a rocking good few shows with the BTK band, and some solo music work in the middle of June. None of which pay, but I have plenty of yogurt and pasta to last a while.
There is a small chance I will be in China when next I write. Ill let ya know
When we have lost everything, including hope, life becomes a disgrace, and death a duty." Comic W C Fields...Im assuming on an off day